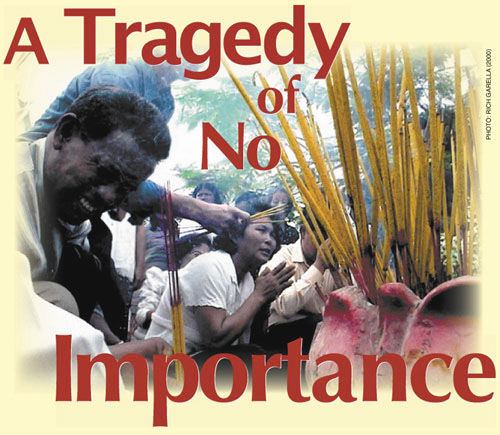 Before Iraq, before Afghanistan and before Bosnia, the West set out to heal another ruined country.
The Cambodia operation began in earnest in 1991, with the Paris Peace Agreement. International donors rebuilt roads and bridges—a broken nation's bones and tendons. They also used Cambodia as an experiment in modern methods of implanting democracy.
On the morning of March 30, 1997, it became clear that the experiment had gone wrong. What happened that Easter Sunday would draw the FBI and the State Department into a test of America's commitment to the war on terrorism and its dedication to the rule of law.
---
---
Contents
About A Tragedy of No Importance
This article was researched and written by Rich Garella and Eric Pape. Both of us lived in Cambodia at the time of the grenade attack and came to know many of the people affected by it. We saw what happened to the ambitious effort to bring democracy and development to Cambodia, and learned how the West chooses, finances and inoculates its winners, and what happens when it abandons its losers.
A Tragedy of No Importance was published by Mother Jones magazine online. That version can be seen here.
The authors
Rich Garella is a journalist whose writing has been published in Los Angeles magazine, the LA Weekly, IPI Global Journalist and others and a consultant who has worked for MoveOn.org and other organizations. His short film Polygraph was chosen from among more than 1000 entries as a finalist in MoveOn's "Bush in 30 Seconds" contest and was shown widely on U.S. television in 2004.
Garella lived in Cambodia from 1995 to 1997, working as an editor at The Cambodia Daily and later as executive editor at the short-lived Cambodia Today/Kampuchea Tngay Nih (shut down after the 1997 coup d'etat) before returning to the United States.
Drawn by the disintegrating political climate, he went back to Cambodia in 1998 to work as communications officer for Cambodia's opposition leader, Sam Rainsy for ten months; in 2000 to research this article; and in 2003 as a consultant to the International Republican Institute during parliamentary elections.
As a founder of Loud Mouth Films, he produced the Peabody Award–winning documentary film Who Killed Chea Vichea?, released in 2011.
Eric Pape worked as a journalist for The Cambodia Daily from 1996 until 1997 and for the Phnom Penh Post during the run-up to the 1998 elections. His writing there focused on human rights abuses, politics, international involvement in Cambodia, and the electoral process.
Pape has also worked as a journalist in Europe, Africa, and Latin America, where he wrote about international politics, war crimes, drugs and trafficking. In the US, his articles have focused on exiled ethnic groups, the criminal justice system and politics.
He has written for Foreign Policy, the Daily Beast, Newsweek International, The Los Angeles Times Magazine, Spin magazine, Los Angeles magazine, the LA Weekly, London's Independent on Sunday, Salon, and other publications and wire services in Asia, Europe and the Americas.
He is now based in Paris.
Sources and acknowledgments
The information in A Tragedy of No Importance was gathered over a period of several years, in Cambodia and elsewhere. We have withheld the names of some sources to avoid placing them in danger. Additional information is based on our own experiences and observations, and on conversations and interactions with Cambodians and others.
Many people have provided invaluable help to us. We owe our thanks to the Heinrich Böll Foundation for its support; to Clara Jeffery of Mother Jones magazine for her editing insights; to Christina Cantrill, Celine Curiol, and Dr. William Barta, among many others, for their honest critiques; to Kyra Dupont of the Swiss daily 24 Heures for a variety of contributions; and to the human rights investigators, both Cambodian and foreign, who have never flinched from the truth.
However, the authors are responsible for the information here. We welcome comments, corrections and additional information; we will include new material as we see appropriate.
We do not vouch for the accuracy of any information on external pages. As with all information you find on the web, evaluate their reliability with care. Likewise, links to other sites do not imply that the owners of those sites endorse this one.
Citations
This document can change without notice to reflect new information. If you cite this article, please include the date on which you viewed it. The current date is shown on each page.
If you post a link to the article, please link to the home page:
http://www.cambodiagrenade.info/
Technical information
This site uses CSS stylesheets and Javascript. If you are unable to display notes and sources when you hover over or click on an [n] or an [s], please make sure Javascript is enabled in your browser. These windows behave differently in different browsers. If any other feature of the site doesn't work for you, please let us know. We welcome suggestions to improve the site.
Rights
All original work on cambodiagrenade.info is copyright 2000-2005 by Rich Garella and Eric Pape. This work is licensed under a Creative Commons License, except in developing nations, where this work is licensed under a Creative Commons Developing Nations license.

Support
If you have information that could improve this web site, please e-mail us using the links on this page. If you would like to make a financial contribution to the maintenance of this web site, please click on the button. And if you would like to help other people find this information, please put a link to http://www.cambodiagrenade.info/ on your web site.
---
A Tragedy of No Importance, by Rich Garella and Eric Pape
viewed on -
about
-
e-mail
-
print all